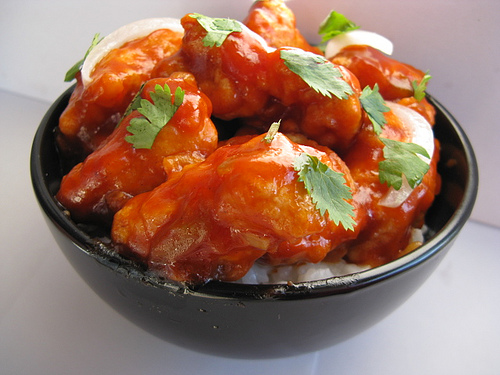 Boneless Chicken : 1/2 kg
Finely chopped Ginger : 1 tbsp
Finely chopped garlic : 1 tbsp
Finely chopped green chilli : 1 tbsp
Cornflour : 2 tbsp mixed in 1/2 cup water
Cut chicken into inch square pieces. Mix flour, egg, salt & pepper. Add chicken.
Deep fry chicken and set aside.
For the manchurian sauce, fry garlic, ginger and green chillies till they change colour.
Add chicken stock, soya sauce, ajinomoto and cook for two minutes. Add cornflour mixtures to thicken the gravy. Add fried chicken pieces and cook for two more minutes.
Contributed by: Mekha Jobin