Red chilly flakes - 1 tsp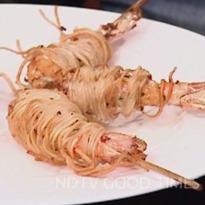 Onion - 1/4 cup finely chopped
Boiled noodles - 1/2 packet
Wooden Skewers - 6 (soaked in water for 30 mins)
First, marinate the prawns in a mixture of the lemon juice, salt, pepper, garlic, red chilly flakes and onion. Refrigerate this for 30 mins.
In the meanwhile, prepare the sauce by combining all the ingredients together and mix well.
Then, take out the prawns and pierce with the skewers from the head till the tail.(such that, it passes through the whole body).
Wrap it with strands of the noodles and deep fry till golden brown.